This is a list of some of the games that I've made in the past. Most were made during game jams, and are in various states of completeness.
Alchemy Industrified
Alchemy Industrified is an alchemy-based real time strategy. The goal is to setup a mining operation for lead, and transmute it to gold. Enemies will attack at regular intervals, so protect your base with your workers! Made for the first Alakajam.
Released: September 24 2017
Submerged
A city simulator where you race against the tide! Made for Ludum Dare 38.
The sea levels are rising. Only one small piece of land remains on Earth. Expanding upwards is mankinds only hope!
Released: April 24 2017
Turnstone
A platformer where you have to roll around change shape to complete the levels. Made for Ludum Dare 35.
Released: April 17 2016
Perihelion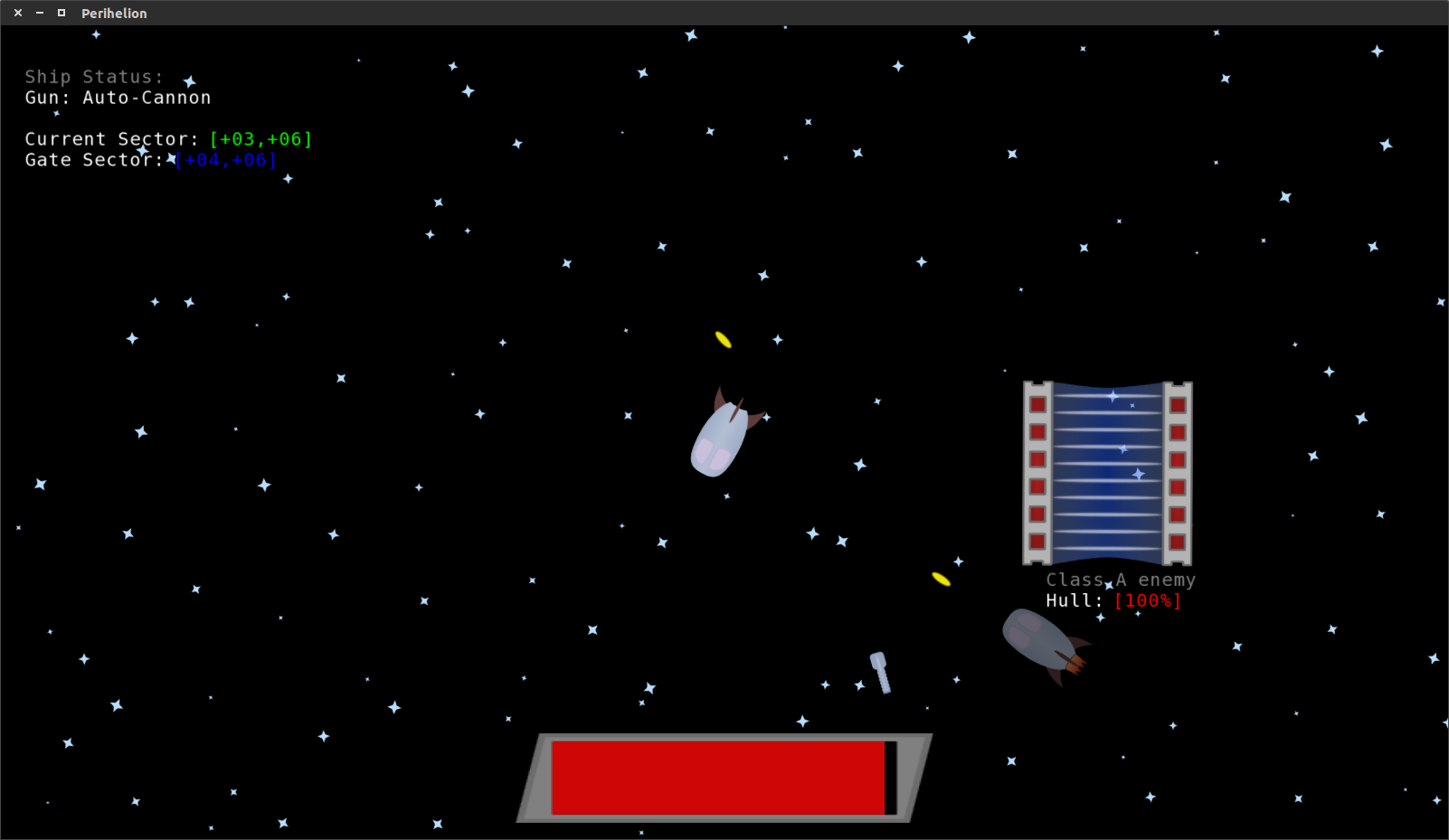 A roguelike set in deep space, where you have to find the gate to the next sectors. Kill increasingly tougher enemies and scavenge their guns to upgrade your ship. Created for the LibGDX Jam.
Released: 17 Januari 2016
Underground Chef Castle
This is an homage to old school dungeon crawlers, with some modern twists. Made for The Arbitrary Gamejam 20.
Released: March 23 2015
Modern Army Bowman
Take on a army base using only bow and arrows. Made for Ludum Dare 32.
Released: April 19 2015
Symposium Gamejam
My friends and I had a day off, so we did what any normal group of friends would do: host a 24 hours game jam! The game is about luring and pushing enemies into black holes, and features scaling difficulty and boss battles.
Released: February 11 2015
Zoom
A top-down Roguelike-like where you keep zooming in on the screen, fitting with the jam's theme "Entire Game on One Screen". Made for Ludum Dare 31.
Released: December 7 2014
The Storm
A platformer where you have to seek shelter from the deadly rain. The game features 6 levels, scaling in difficulty, and has a sortof new game+ feature. This, combined with its difficulty, should make sure that you'll enjoy it for some time.
This is my entry for the Arbitrary Gamejam 13, an awesome jam where the winner of the edition gets to be the host of the new one.
Released: August 11 2014
Shark Hard II: Shark Harder
I build this for Mini LD 46, and it's one of the sillier games I made. I had to tone down the ambitious ideas I had at the beginning of the jam, but the end result is still fun.
Released: November 4 2013
Gravitas
My entry for Ludum Dare 26, the first game jam I participated in. Despite my lack of experience back then the game is still pretty fun and polished.
Released: April 29 2013